Alan Rickman
AKA Severus Snape
Full Name is Alan Sydney Patrick Rickman
Born in Hammersmith, London, England
Born on February 21, 1946
Is 6'1
Parents: They were Irish and Welsh.
He has two brothers one older and one younger and sister. His dad died when Alan was just eight year old. Alan Rickman got into West London's Latymer Upper School in 1956 to studying graphic design but at the age of 26 left to be come an actor (good thing!) Then he attended Royal Academy of Dramatic Art for 3 years and joined the Royal Shakespeare Company. In 1988 Alan Rickman was in his first movie, Die Hard, as the evil German uber-terrorist Hans Gruber. Alan as most recently been in Robin Hood, Prince of Thieves(1991), Galaxy Quest(1999, A really good movie), Dogma(1999),Harry Potter and the Sorcerer's Stone (2001), and Harry Potter and the Chamber of Secrets(2002). Rickman as also made a movie, The Winter Guest in 1997.
Known awards:
Brussels international film festival: Audience Award in 1998 for The Winter Guest
Chicago international film festival: Golden hugo best film in 1997 for The Winter Guest
Golden Globe for Actor in a Mini-series or Motion picture
Click here for more Award and Nomination.
Written by Moony. Picture modifications by Moony. All right are to original artist. Back to top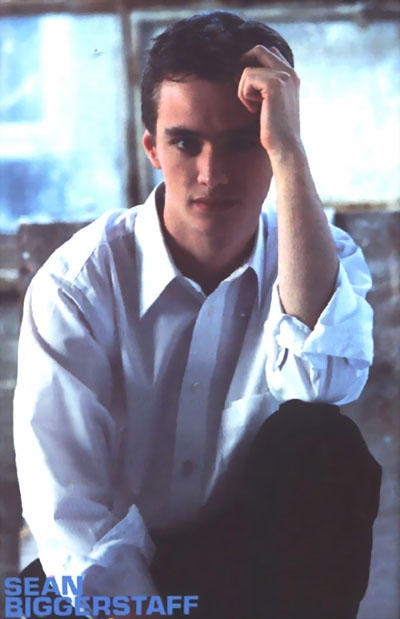 Sean Biggerstaff
AKA
Oliver Wood
Full Name: Sean Biggerstaff

Born: Glasgow, Scotland UK
Day: March 15, 1983
Is 5'9"

First acting job was in The Crow Road in 1996. Likes to play guitar, which he learned by ear when he was 13. Started acting at age 5. Used to play in a band called Crambo. (Anyone heard of them send Moony an email) Has a younger sister, Jenny, born in 1999.
Official website: www.seanbiggerstaff.com Wonderful website. I, RemusLupin87, am a member. Written by RemusLupin87. Picture from www.seanbiggerstaff.com. Back to top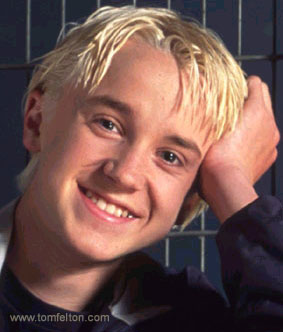 Tom Felton
AKA Draco Malfoy

Full name: Thomas Andrew Felton

Born in London, England UK
Born on September 22, 1987
Is 5'3 (to bad)

Parents:

First ever appearance was in a TV show called "Bugs" in 1995.
He has been acting since he was eight and is a fantastic singer.
He has three older brothers.
When not acting he likes fishing, football, iceskating, rollerblading, basketball, cricket, swimming and tennis.
Actually tried out for the part of Harry Potter, but got picked as Draco. Made an excellent one too. Is not actually mean but really nice.
Official Website: www.tomfelton.com
Written by RemusLupin87. Picture from Tom Felton official Website. All right are to original artist. Back to top
Rupert Grint
AKA Ronald Weasley

Full name: Rupert Michael Grint
Born in Hertfordshire, England UK
Born on August 24 1988
Is 5'5

Parents: Jo and Nigel

He has been in the Harry Potter movies as well as Thunderpants which was made in 2002. If you have seen it please email Moony with a review from it. (e-mail moony here.)
Like his part as Ron he is arachnophobia and plays the guitar. Has four younger siblings. One brother and three sisters.
If he had a power it would most likely be to become invisible so he can sneak out of detention.
He sent in an audition tape of him rapping a song of him become Ron Weasley.
Official Website: http://www.rupertgrint.org/
Written by RemusLupin87. Picture from http://www.harry-potter-posters.com/movie.htm. Back to top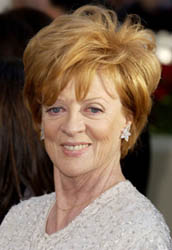 Margaret Smith AKA Minerva McGonagall
Full name: Margaret Natalie Smith
Born in Ilford, Essex, England Born on December 28, 1934
Is 5'5
Parents: Margaret Hutton Little and Nathaniel Smith
Margaret Smith as two brothers Ian and Alastair they are both twins. Margaret was marry to Beverley Cross until his death, than remarried to Robert Stephens in 1967 but got divorced in 1974. She has two boys Toby Stephens and Chris Larkin, both actors. Margaret Smith as appeared more recently in Sister Act(1992), Sister Act 2(1993), The Secret Garden(1993), Tea with Mussolini(1999), Harry Potter and the Sorcerer's Stone(2001), and Harry Potter and the Chamber of Secrets(2002.)
Known awards:
A Oscar for The Prime of Miss Jean Brodie(1969),
Awarded the CBE in 1970,
Another Oscar for her role in Neil Simon's California Suite(1978),
BAFTA Awards for A Private Function(1984),
And yet another Oscar for Gosford Park(2002).
Written by Moony. Picture from http://www.brimovie.co.uk. Back to top
Emma Watson
AKA Hermione Granger.

Full name: Emma Charlotte Duerre Watson

Born in Oxford, England UK
Born on April 15, 1990
Is 5'3

Parents: Jacqueline and Chris

First ever appearance in a movie was Harry Potter. She was told about the part of Hermione from her Drama teacher. She tried out for the part but didn't expect to get it. Glad she got it to! Excellent Hermione.
Has a younger brother named Alex and two cats named Bubbles and Domino.
Favorite book is "Harry Potter and the Prisoner of Azkaban."
When she is not acting she likes to play hockey and debate. She is an actual blonde, unlike her Hermione brown hair. Her parents are divorced and she lives with her mom. She is also the youngest original cast.
Written by RemusLupin87. Picture modifications by Moony. All right are to original artist. Back to top